Triple Play Provider EastLink Manages Rapid Network Growth with T/Mon NOC Network Alarm Management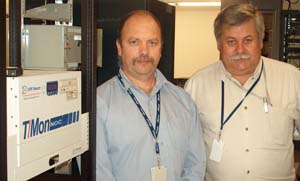 EastLink's Derrick Stennett (left) and
Jim Bower, with their T/Mon NOC.
A rapidly growing technologically advanced network. A mix of diverse equipment. Remote sites spread across three provinces.
Canadian triple-play provider EastLink is successfully managing the network of the future with help of T/Mon NOC and the NetGuardian 832A.
Based in Halifax, Nova Scotia, EastLink is considered a market leader and innovator for its successful launch of telephone service over a cable network in the late 1990s.
Starting as a number of small cable companies that later merged under the brand of EastLink, the company saw an opportunity to expand and enter a new market when the Canadian government deregulated telecom allowing local competition. In 1999, with a strong entrepreneurial spirit at its back, EastLink became the first Canadian cable company to successfully expand into the local residential telephone service. Service was later launched to business customers in 2001.
Since then, EastLink has been growing offering bundled telephone service, high-speed Internet access and digital cable at competitive prices in a rapidly expanding service area.
"We were the first cable company in Canada to launch residential telephone service and bring competition to the local market. That's an achievement for a company that at the time employed just over 200 employees," said Jim Bower, EastLink's telecom operations manager. "Then we were the first to introduce communications and entertainment bundles. Six years have passed and cable and telephone companies continue to follow our lead."
Leveraging the existing network
EastLink has a terrific advantage in delivering triple-play - the company leverages its existing cable TV infrastructure to deliver all three services. It provides voice telephony over a hybrid fiber-coaxial network using an Arris Cornerstone cable telephony system.
From the customers' point of view, phone service over EastLink's coax looks and feels no different than service from a traditional provider - even the standard phone jack looks the same. "The secret to our success is that we've been able to deliver a phone service that meets our customers' needs, while at the same time providing them with great value and choice. " said Bower.
EastLink's future growth plans include expanding its service area and launching new services. Until recently, EastLink's primarily been residential provider, but over the last couple years EastLink has moved steadily into serving small and medium-sized businesses with voice and data services.
Managing a growing network is an alarm monitoring challenge
Rapid growth, new customers and leveraging new use from existing network equipment are all strengths - but they also add up to a tremendous network management challenge. Besides the growing number of network sites to manage, EastLink operates a diverse mix of equipment, each of which has its own monitoring and management interface.
"We have an array of different diagnostics and notifications from our Operational Support Systems (OSS)," said Bower. "While we know there are a number of things happening on our network, visually it was often difficult to locate the exact problem
Despite all those multiple systems, EastLink still needed an environmental monitoring system and that is why it turned to DPS Telecom.
"Until we starting using the NetGuardian, we didn't have consistent environmental telemetry at our head-end sites. We have approximately 15 main sites and 25 to 30 smaller sites, and we weren't always aware of some small and larger issues like: Is the door open? Is it too hot? Is there power?" Bower said.
Getting that environmental information is crucial, because EastLink's remote sites are scattered throughout the Maritimes. Some of the sites are located six hours away from EastLink's Halifax headquarters, posing significant challenges if or when a problem arises.
That is why tackling the monitoring challenge with the NetGuardian and T/Mon NOC wasso important. EastLink first came to DPS Telecom to add environmental monitoring capability and from that point started installing NetGuardian 832A remote telemetry units at their head-end sites to monitor power supplies, temperature and door alarms. Working with the NetGuardian led EastLink to see the advantages of the T/Mon NOC Remote Alarm Monitoring System.
"At first we were using an SNMP manager to pick up SNMP traps from the NetGuardians," said Bower. "SNMP managers have an extensive programming background and in order to understand the information, you also needed to have this background. We needed a system that could be understood by someone with a basic telephony background."
Bower then compared the awkwardness of the SNMP manager's presentation with the ease-of-use and presentation capabilities of T/Mon NOC.
'Every year I've been to SUPERCOMM, a major telecommunication conference, I've always stopped by the DPS booth and looked at T/Mon. I've seen demos and Rick Dodd, Telecom Director of Sales, demonstrated a live T/Mon demo over the Web. We were impressed with T/Mon - someone with a basic telecommunications background could use the technology," Bower said.
T/Mon presentation provides exact information about alarms
According to EastLink NOC supervisor Derrick Stennett, T/Mon NOC's specific and detailed alarm information is helping the company manage problems better and faster.
"The most important way we've been able to use T/Mon is to list specific information in the text messages for each alarm. For example, in the event of a smoke alarm, I can see a specific number to call to escalate the alarm, a contact for security company to follow up on the site and the specific location of the site in case 911 needs to be called. The information's right in front of me, resulting on overall increased efficiency and a significantly shorter repair time," Stennett said.
By consolidating alarm information in one place, T/Mon also lowers staffing costs, according to Bower. "We have a 24-hour staffed Network Operating Centre and with all we have to manage, we had to evaluate whether we add more resources or find a technology that can help us manage the network. With T/Mon, we hope to move towards a time when one employee can monitor the network and use just one screen as their first alert," Bower said.
T/Mon consolidates multiple alarm system on one screen
T/Mon NOC's unified presentation - displaying all alarms from the entire network on one screen - is helping EastLink manage its diverse mix of equipment. EastLink's Cornerstone equipment and DMS switch report to T/Mon NOC over TL1 protocol using T/Mon's ASCII Alarm Processor Software Module. NetGuardian 832A remote telemetry units collect environmental alarms at remote sites and report them to T/Mon NOC.
In the future, Bower and Stennett hope to use SNMP alarm reporting to tie even more equipment to T/Mon NOC's integrated alarm presentation.
"We're trying to consolidate all alarms into T/Mon So, if I want to know what's happening on the network, I can look at one screen and with a high degree of accuracy, know it's been a quiet day with no alarms," said Stennett.
---
T/Mon NOC will give you better visibility and control over your entire network. T/Mon's standard pager and email alerts, easy-to-use Web interface, nuisance alarm filtering and multiple remote access options will make your alarm data more useful - reducing both windshield time and the threat of service outages.

See Full Specifications of the T/Mon NOC Remote Alarm Monitoring System
To receive a price quote or ROI analysis...
Call 1-800-693-0351