Maintain a Second Master in Another Location for LAN-Based Geodiversity Backup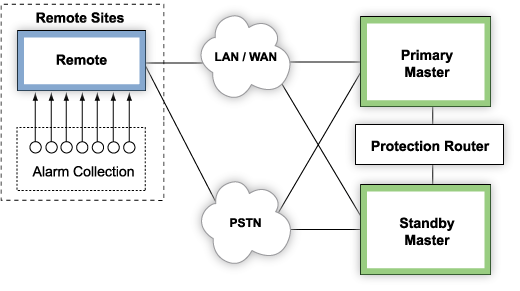 Continue Uninterrupted Monitoring Even During a Catastrophic Failure
The first rule of network monitoring is "Be prepared for the worst - so if the worst happens, it won't affect your business." The second rule is "Always have a backup - you just might need it."
When planning your network monitoring strategy, keep in mind that failures can happen in your NOC just as easily as in the field. Power can fail, communication lines can go, and fires, earthquakes, and extreme weather can impact the NOC building itself.
An advanced network alarm system will support LAN-based geodiversity backup, to safeguard your network under all circumstances. In this application, two masters are connected to create a hot standby backup system.
If anything happens to the primary master - a communications breakdown, a power failure, or the physical destruction of the primary master - the protection router will immediately detect the failure and switch all alarm polling to the standby master. The databases of the two master are always kept synchronized. Switching masters has no effect on network monitoring, which is continuous and uninterrupted.
The standby master can be placed anywhere - in another room or in another town. Even under the worst of worst-case scenarios - your NOC is destroyed in a fire, for example - your network monitoring continues to protect your revenue-generating network and its customer services.