Infrastructure Management in Network Operations Monitoring
Let's start by defining infrastructure management services.
Infrastructure Management (IM) is the management of key operation parts. This includes policies, processes, gear, data, human resources, and external contacts. These all add up to overall effectiveness. Infrastructure management is sometimes divided into groups of systems management, network management, and storage management.
Among other reasons, infrastructure management solutions seek to:
Reduce duplication of effort.
Ensure adherence to standards.
Enhance the flow of information throughout an information system.
Promote adaptability needed for a changeable environment.
Ensure interoperability among organizational and external entities.
The Importance Of Information Management
All business activities depend upon the infrastructure. The infrastructure is what brings everything together into a working system.
Yet, somehow, planning to ensure its effective management are typically undervalued. This harms the organization. According to IDC, spending on IM have the largest single impact on an organization's revenue.
One of the most important aspects to IM is to know that a problem exists before it impacts vital business service. The most effective and integrated IM solutions span distributed and mainframe environments. This ensures quality service to users.
The Benefits Of Having A Good Information Management System
What a good IM system can achieve:
Improve productivity of business processes, and people.
Increase productivity by automating processes. Also stops problems before they occur.
Ensure that vital IT assets are up and running when required. They must be online to meet business service needs.
Reduce complexity.
Optimize operating systems, networks, and middleware. This ensures max performance to allow business success.
Leverage smart automation to free up key IT staff to focus on high value projects.
Quickly shows the root cause of problems.
Reduce costs by right sizing and right timing your resource deployments.
Collect data more accurately and efficiently.
Provide an enterprise-wide view of all components of your IT infrastructure.
Align business and Information Technology (IT).
Actively alerts staff of threats to application availability.
Send alerts to central repository for correlation.
Prevent data loss through data security and data storage.
Correct problems and align them to business requirements. Don't just resolve them in the order they occur.
Role Of Data Monitoring In Infrastructure Management Activity
Remote site management in real-time is key. With it, you can reduce time spent on traveling and troubleshooting. At the same time, you'll increase infrastructure availability and quality.
It can also improve maintenance. This means gaining resource efficiency. It will also increase the time allocated to improvement and expansion.
This is especially true as remote site technology is on a permanent-growth path. The security and availability of these remote sites is vital. It is vital to the performance of the entire infrastructure.
Outage costs build up quickly from several potential sources. These include lost revenues, gov't fines, SLA penalties, and customer dissatisfaction.
It is also of vital importance to know and appreciate the role of these remote sites. You must know it throughout the entire organization. Remote site systems are just as critical to optimal infrastructure.
These include cell towers, small central offices, oil platforms. If ignored, failures within these systems can often be even more damaging than core system failures.
Management of these disparate systems from a lot of gear suppliers is often very complex. Newer systems are likely SNMP-based. Older telemetry systems use simple contact closures. These closures are good/bad indicators.
They provide limited, yet vital, information. Such ambiguous information often needs further digging by regional field technicians.
Disadvantages Of Lack Of Strong Information Management
Maintaining vital gear in such rural sites requires significant labor costs. But this is only part of the problem. Limited connectivity options, mountainous terrain and inclement weather add to the challenge of effective IM.
For this reason, monitoring solutions are deployed at central network operations centers (NOCs) and master control stations. The personnel at these central locations maintain responsibility for the entire infrastructure. They most likely monitor remote gear only for critical failures.
However, serious problems can happen at small sites just as easily as at large ones. Issues dealing with costly dispatches and low quality of service require flexible solutions.
Setting Up Solid Information Management Is One Solution To Many Site Issues
The solution here lies in a more efficient approach. You must deploy complete, intelligent remote site management. One that is designed carefully. It must specifically address diagnostic, recovery, and preventative maintenance.
The activities are handled by regional operations personnel and field technicians. This approach would improve operational efficiency. It would also free up resources to support new capacity expansion and service roll-outs.
Get Into Gear With Flexible Solutions For Complex Problems
Consolidate Remote Gear And Facility Management
Equipment and facility management should as efficient as possible, get them onto one powerful platform. Point solutions can clutter space-constrained infrastructure. They leave technicians with information that is as confusing as the systems themselves.
Automate Maintenance Checks
Checks should be done automatically and frequently. Schedule regulatory statistic reporting. Store results for trend analysis.
Provide Correlation
This helps technicians recognize root causes to complex problems. Failures caused by power outages, or low tank levels caused by pipeline leakage are tricky. They are more easily detected through analysis of information from a single system.
Create A Flexible Architecture
You need diverse connectivity to meet the needs of any place in the network.
Ensure Complete Physical And Logical Security
This includes both into and out of the facility.
Maintain A Consistent Inventory
Record of remote site gear.This would result in shorter mean time to repair. That means better service and lower costs. The cost shrink comes via elimination of site visits through remote management techniques.
Stay Up To Date With Features While Supporting Legacy
Don't fall behind in technological prowess. New features can improve operating procedures, but don't jump on the cutting edge bandwagon so fast. Keep good legacy equipment working to keep costs down as cutting edge is a big risk to undertake.
Improve Your Information Management With The T/Mon Remote Alarm Monitoring Master
Optimize your IM by deploying T/Mon Alarm Master. This infrastructure management platform brings all of your remote alarm monitoring needs into a single centralized screen. T/Mon provides you with infrastructure management, network management and storage management.
It is a multi-protocol and multi-function device. This means that it will work with pretty much all preexisting systems by having support for over 25 protocols. It will even work with legacy devices, so don't throw them away if they're still in good working order.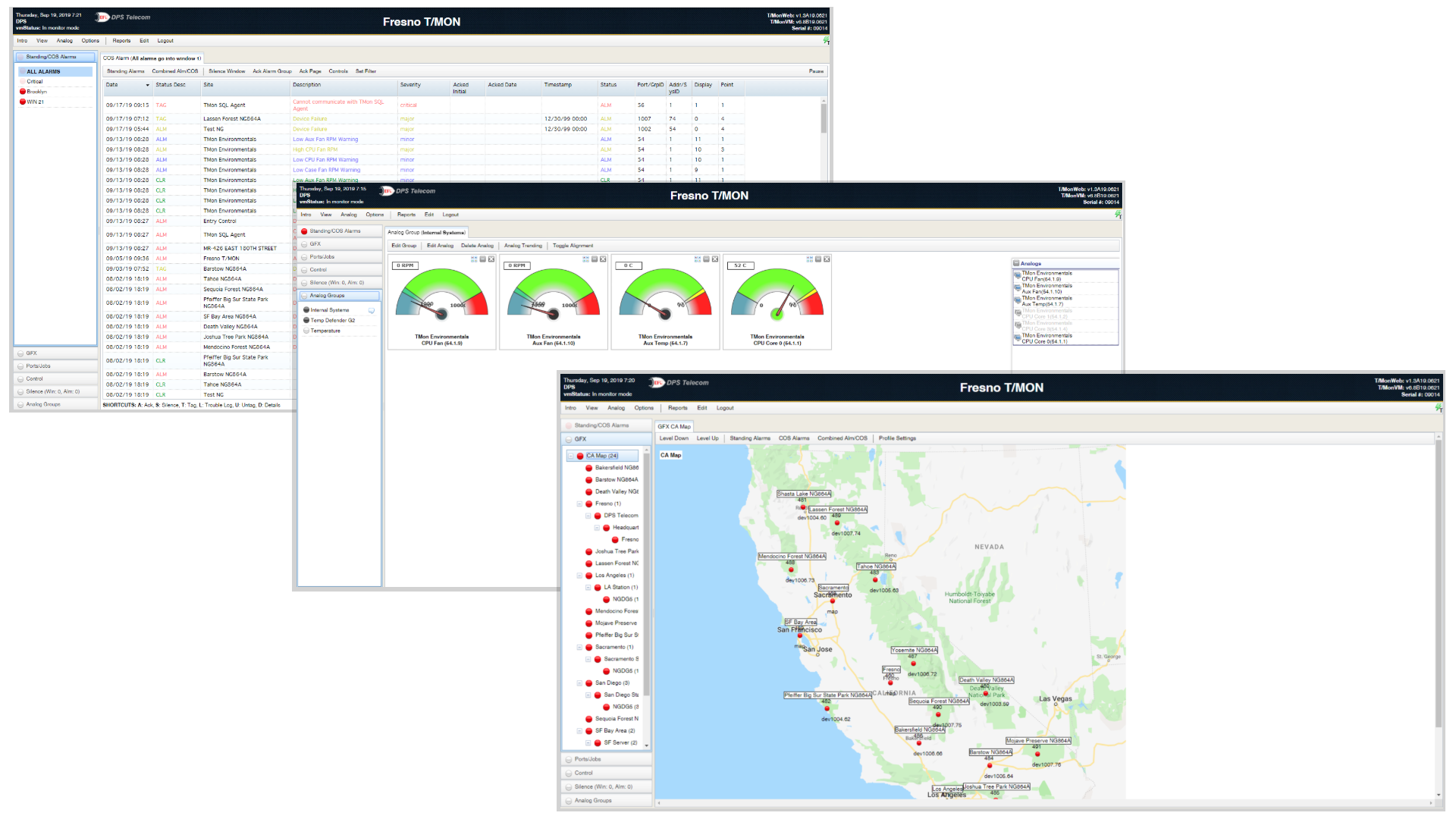 T/Mon master station allows effortless remote monitoring and control of your network.
Call us today to learn more about cost-effective remote site management solutions.