Report Alarms in E2A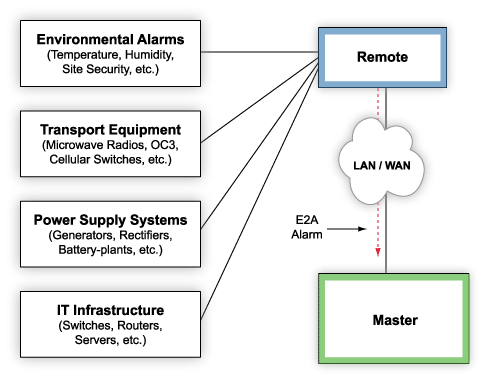 E2A-Capable RTU Integrates New Capabilities Into Your Existing Network Management System
Your network is growing more complex every year, and your remote sites have more equipment to be monitored: environmental status, battery plant voltages, security, switch alarms, transmission equipment, tower lights, outside plant status. And now you need to figure out how to integrate new equipment into your existing E-Telemetry System.
The right remote can add new life to your E2A network. In this application, a remote receives alarm data from site equipment and transmits the alarm in E2A format to your existing E2A network management system. This is a cost-effective solution that provides all the advantages of an integrated network monitoring platform.
The Cost Savings of a Multiprotocol Master
When you are integrating a wide variety of remote telemetry devices, including multiple protocols, the ideal solution is to integrate all your monitoring into a single multiprotocol monitoring platform, for several reasons.
Using a single interface for all your monitoring applications will:
Create substantial savings in initial expenditure, operational, and maintenance costs
Save your investment in legacy protocol devices
Give you a smooth transition to advanced telemetry capabilities
Allow you to spread network equipment upgrade costs over several budget cycles, since both old and new equipment types are supported by the multiprotocol master.
Free, No-Risk Engineering Development to Integrate Legacy Devices and Protocols
While DPS Telecom supports over 15 protocols, you may need to use a protocol that we don't currently support. That's no problem - we can add support for the protocol you need, at no expense, risk, or obligation to you.
If you need a custom-engineered solution, your choice of vendor is critical. Many equipment vendors charge up-front non-recurring engineering fees (NREs) for custom engineering and give no guarantee that the resulting work will provide effective monitoring for your network. If the final product doesn't give you the visibility you need, the money you spent on custom engineering is just money down the drain, and that doesn't look good on anybody's record.
You shouldn't have to pay extra for the protocol support that you need. You shouldn't have to take the risk of paying for a solution that may not work. In today's rapidly-changing technology environment, innovation is a standard product - a commodity - and you shouldn't have to pay an extra fee for it with no guarantee of a solution.
At DPS Telecom, custom design is a standard service. Our business has been built on continuous innovation, and we embrace opportunities to design new network monitoring solutions. We have successfully adapted many types of legacy-protocol remotes to work with our advanced telemetry masters, and we can do the same for you. Typically, all that is required is a minimum order.
Our custom solutions are backed by a 30-day, no-risk guarantee. Test the proposed solution under real-world conditions for 30 days, and if, at any time during that period, you decide for any reason that our solution will not meet your monitoring needs, you can cancel your order with no further obligation.

top
---