Stop Wasting Your Staff's Time, Effort, Attention, and Energy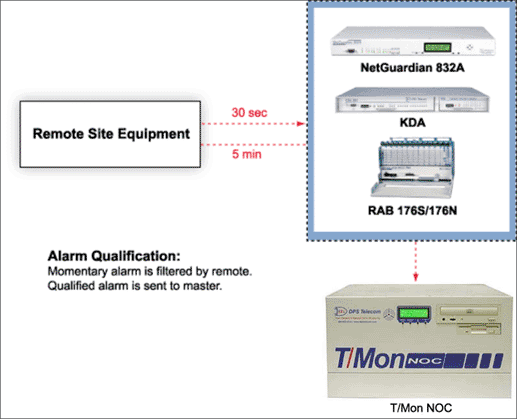 Nuisance Alarm Filtering Saves Operational Time and Focuses Effort on Serious Emergencies
Nuisance alarms can defeat your network monitoring. If your monitoring staff is bombarded with nagging unnecessary alarms, they will become desensitized to all alarm reports, until finally critical alarms go unnoticed, unreported, and uncorrected.
These remotes - the NetGuardian 832A, the RAB 176S/N, and the KDA family of RTUs - can protect your network from the waste of nuisance alarms. All are equipped with alarm qualification timer, an essential defense against unimportant, intermittent, oscillating alarms.
In this application, momentary flickers of alarm contacts are cut off at the source. Only alarms that meet the qualification time are reported. Your staff will know and trust that when these remotes report an alarm, it's a real situation that requires immediate action.
Three Different Remotes Let You Use Nuisance Alarm Filtering at All of Your Sites
Nuisance alarm filtering is a critical advantage for all your sites, large and small. While all three of these remotes have alarm qualification timers, they have different features and capabilities, suited for different alarm collection applications.
NetGuardian 832A: 32 discrete alarms, 32 ping alarms, 8 analog alarms, and 8 control relays, for DCP and SNMP
The NetGuardian 832A is a NEBS-certified, LAN-based alarm collection device for comprehensive monitoring and control of remote site equipment. The NetGuardian has all the tools you need to manage your remote site, including stand-alone local visibility options for monitoring alarms directly through the RTU, bypassing the need for a master.
Remote Alarm Block 176S and 176N: 176 discrete alarms, 4 controls, for DCP, E2A, SNMP, TBOS, TL1
The Remote Alarm Block (RAB) is an extremely compact alarm collection remote, combining the functions of an alarm block and an RTU in the smallest possible space. The RAB is the optimum combination of large capacity and versatile configuration in a small physical profile, making it the ideal solution for any site with many alarm points and limited rack space.
KDA: 64 discrete alarms, 8 controls, for DCP, E2A, SNMP, TBOS, TL1, TRIP
The KDA 864 is a multiprotocol, downloadable alarm and control remote that packs 64 alarm points and 8 control points into a single 19-inch housing. You can daisy-chain up to four KDAs for added capacity and include additional functions like TBOS and analog monitoring in the expansion card slot.

top
---