VoIP Vendor PointOne Helps Develop the NetGuardian
PointOne Telecommunications Inc., headquartered in Austin, Texas, has established a position at the forefront of a converging communications industry. They provide voice and data communications (Voice over IP) to the wholesale market and mid-range enterprise customers.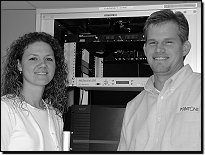 PointOne's Materials
Manager Amanda Johnson
and Field Operations
Manager Kirk Beggs.
PointOne has developed a "next-generation network architecture," which we are pleased to be a part. In fact, PointOne is one of the original customers who helped us create the NetGuardian.
"I consider myself very fortunate to have worked closely with DPS Telecom during initial product testing of the NetGuardian," said Applied Research and Development Engineer Mike Abel.
PointOne had a need to remotely provision equipment and perform environmental monitoring via their VoIP/LAN network. They also needed the solution to fit into a single-rack position, as bay space is a valuable commodity.
"The ability to deploy product enhancements via flash upgradeable firmware proved invaluable in molding the product to meet the needs of PointOne Telecommunications," Abel said.
DPS has worked closely with PointOne Senior Director of Special Projects Brian Wood, to design and implement site monitoring. "DPS understood our requirement to use telnet and SNMP tools to remotely manage our network. Integrating tools with discrete and analog monitor points provides PointOne a comprehensive unit for our remote management needs," said Wood.
PointOne is in the midst of a national NetGuardian deployment to its strategic markets. "These units have performed very well for PointOne. The dial-up capability allows us to provision the equipment prior to the WAN connectivity being in place, while the telnet and SNMP functions allow normal provisioning and monitoring," said Wood.
Do you have questions about the NetGuardian?
Give us a call at our toll-free number and talk to one of our specialists. They'll help answer any questions you may have.
Sales: 1-800-693-0351 - Support: 559-454-1600 - Fax: 559-454-1688