Deploy more sensors with less wiring and less expense using D-Wire Technology
What sensors do you use to monitor your environmental levels? You know you need to closely track temperature, humidity, etc. at remote sites to protect your equipment.
Traditional analogs work, but they create a fair amount of extra work for you...
Traditional analog sensors are commonly used. They are generally reliable and get the job done, but they definitely have some downsides as well. To start, they must be wired into site power to operate. This is fine for one or two sensors, but if you have any more than that, you're going to spend a lot of time wiring.
Not only that, they commonly require +12 VDC or +24 VDC, which may not be natively at your site. To supply power to each unit, you need to put a voltage converter between it and your rectifier. That's a lot of wiring work and it gets messy fast.

Analog sensors use a scale to convert
voltages to human-readable metrics.
Once you have the analog sensor powered up, you have to wire it into your RTU using one of your limited analog inputs. One sensor might be OK, but if you need multiple sensors, your analog inputs will quickly be used up, leaving no room to monitor anything else.
When you plug in the sensor, the RTU can sense incoming electrical signals, but it has no idea what type of unit it is. Is it a temp or humidity sensor or something else? Is it outputting voltage (0-5v) or current (4-20mA)?
Additionally, you have to scale the device. Scaling is the process of telling the RTU how to convert the voltage input to a human-readable output. For instance, your analog sensor will come with a preset scale, usually noted on the side of the device. It may state that a value of 0 volts = 5 degrees F and that 4.7 volts = 100 degrees F. If the sensor reports a value of 2.8V, the RTU uses the scale to convert that to 77.4 degrees. Unfortunately, scaling is necessary with analog sensors. While the method is very accurate, it's still an extra step. It can also be confusing if you haven't set it up before.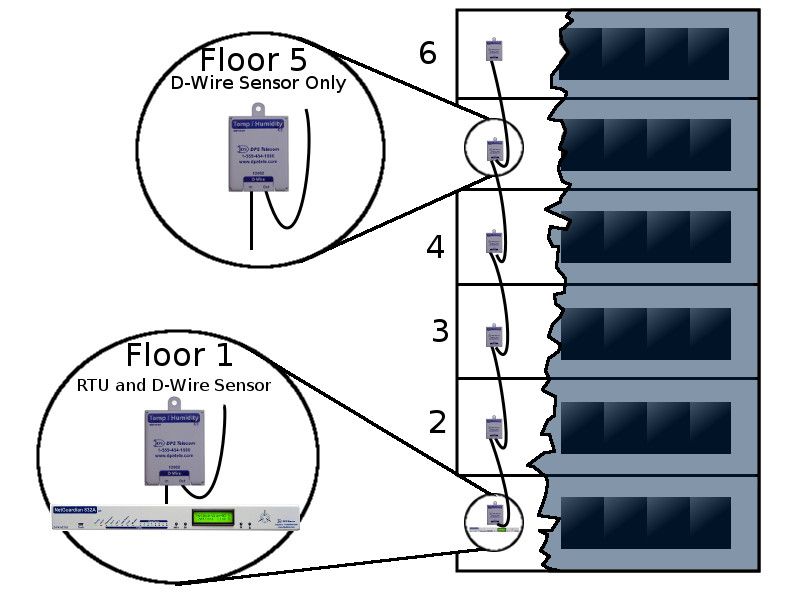 In this example, a daisy chain of D-Wire sensors spans 6 floors of an office building. This example shows you the flexibility and range of D-wire, even though most installations are within a single equipment room.
Some manufacturers have found a better way to set up sensors
While traditional analog sensors are an option, forward-looking manufacturers are moving towards sensors that require only one wire. These units are a better option for several reasons:
First, they only require one wire to transport both data and power. This lessens the number of wires needed and removes the clunky wall transformer units. Imagine being able to quickly and effortlessly plug the sensor into your RTU and having it function, straight out of the box. You only need a single, common RJ-12 cable to install, no specialized cable or expensive equipment. Plus, you can easily crimp new RJ-12 cables in the field for quick repairs.
Because these sensors are so easy to install, you won't have to spend hours training techs on how to incorporate them into the network. Best of all, they boast the same, if not better, reliability when compared with a traditional analog sensor. You don't have to sacrifice quality for ease of use.
D-wire sensors set up with just one cable
DPS Telecom's line of new sensors is called "D-Wire". There's a variety of sensor types. They provide easy-to-use, easy-to-install functionality, and reliability. One simple RJ-12 cable connects the D-Wire sensors to your RTU for monitoring critical environmental levels. To conserve ports on your unit, up to 16 D-Wire sensors (with a maximum of 600 feet) can be daisy-chained through one port. No more using up precious analogs to monitor each sensor individually.

D-Wire sensors are easy to install and require little programming. Run up to 16 sensors with a maximum of 600 feet for your application.
Configuring D-wire is much faster
Provisioning, or editing, the sensors is a breeze too. Each D-Wire sensor is uniquely identifiable by the RTU. It can sense the unit as well as distinguish what type of device it is. This means that, if a sensor becomes unplugged, the RTU will detect this and alert the appropriate person. If your temperature sensor comes unplugged, the device will alert you before temperatures can reach catastrophic levels, saving your temperature-sensitive equipment from damage.
Through the RTU Web Browser, you can set up threshold values and monitor each sensor quickly and easily.
Steps for setting up D-Wire sensors:
Plug the device into the RJ-12 port in your RTU.
Log into the RTU Web Browser.
In the section for provisioning or editing sensors, name the device.
Optional: add alert thresholds.
D-wire allows you to add more discrete or analog inputs to your RTU
Aside from environmental sensors, some of DPS Telecom's D-Wire units are even designed to add more capacity to your RTU, saving you time and money. If you need more analogs, but don't want to spend a large portion of your budget to upgrade your RTU or to purchase a new one entirely, you can simply add a D-Wire expansion unit to your other daisy-chained D-Wire sensors. It's a cost-effective way to increase your existing unit's capacity and they come in a variety of different options such as analogs and controls.
Some D-wire sensors available:
Temperature
Temp/Humidity
Wind Speed
Airflow
Analog
Vibration
A/C Failure
Expansion Units
Take a look at all of our D-Wire sensor options.
There is a D-Wire node for every application. For uncommon sensor types, you can use a digital/analog input node and a traditional sensor. If you have a need that can't be satisfied by one of the sensors listed here, call DPS Telecom at 1-800-693-0351. With in-house design and manufacturing, DPS Telecom also offers custom products to your exact specs, giving you the perfect-fit solution that your network needs. Call today to find out more about DPS Telecom's existing sensors or to ask an expert about a custom product.
To receive a price quote or ROI analysis, call 1-800-693-0351.