If you're in need of software to monitor the equipment at all of your sites, your first instinct is likely to search for free site monitoring software. This is an unfortunately common practice. The dangers of free site monitoring software aren't very well known.
You have expensive and mission-critical gear located at your sites. Your network and your entire operation hinges on the successful operation of these critical pieces of equipment. You simply can't afford to monitor this gear with free software you download somewhere on the internet that's likely running on unstable, consumer-grade hardware.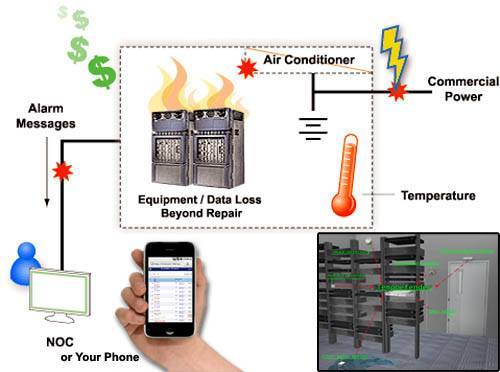 Deploying powerful monitoring solutions at your remote sites can save you time, money, and downtime when you're faced with a network emergency.
Free site monitoring software just won't cut it
You get exactly what you pay for. In this case, when you choose to use free software you're not getting very much a system that is missing critical details, lacks key features, has a complicated interface, and no proven durability. Here's what you can expect when using free site monitoring software:
Unintelligible alarm descriptions

- Free monitoring software will lack the key details that lead to results when things go wrong. You'll likely receive vague alerts that contain no meaningful detail and leave you scrambling to try and figure out what the problem is and where it's happening. When it comes to responding to network emergencies, you don't have time to look up what "Alarm 213 set" means - you need the location, timestamp, severity, and individual details of the alarm. These alarm descriptions are the difference between preventing service outages and having to deal with all of the expensive repairs, the lost revenue, and the angry customers wondering why they lost service.

No event logs

- Free software rarely is designed to handle multiple users. When you have multiple team members accessing software that wasn't designed for multi-user support, things get ugly quick. Before you know it you'll have problems across your network and no log of the work that's been done. This leads to wasted time, money, and productivity. Or if someone "drops the ball," how will you know? With the right site monitoring system you'll know, but with free and limited software you'll have no idea.

No correlations of "clear" events to matching "Alarms"

- When it comes to monitoring remote sites, especially a large number of sites, you'll receive an alarm that will clear itself soon after. A free site monitoring software solution won't do anything to sort or filter these alerts. These free solutions lack the intelligence to only present you with the critical, threatening, and important alarms. The right monitoring software will help filter these nuisance alarms and provide you with the meaningful alerts - so you won't get bogged down by giant amounts of data being tossed upon you from your free software.

No graphical user interface (GUI)

- There is a tremendous difference between monitoring your sites using text-based lists and an intuitive, visual display of alarms. Just imagine how much easier your job will be for you and your employees if you can manage your network with an easy-to-use visual display, rather than only text. You can save tons of excessive training and confusion by using a simpler interface for network management.

No industrial-grade durability

- You'll have to run free, downloaded monitoring software on your own hardware. Can you afford trusting your network uptime and operation of critical equipment to free software running on a less-than-completely-stable operating system that's vulnerable to unauthorized hacker attacks, viruses, and spyware? Protect your mission-critical operations by using a good software solution that runs on an ultra-stable platform on industrial-grade hardware. Your network operations are valuable - protect them.
Finding the right site monitoring software
Fortunately, getting the right monitoring software for your network doesn't have to be a hassle - and it doesn't have to send you over budget.
Picture how much easier your job would be if you could spend less time worrying about monitoring your critical equipment and more time on other projects. You and your team could see big gains in productivity by deploying the right monitoring solutions. Not to mention that by using a good monitoring system, your customers will be happy knowing that you're a proactive company that doesn't cut corners when it comes to providing them with reliable service.
In order to choose the right system, you first have to know what you're looking for. This will help you avoid costly mistakes and common pitfalls that doom many monitoring projects. I recommend downloading and reading the free DPS Telecom Network Alarm Monitoring Fundamentals White Paper. This free guide will teach you the basics of network site monitoring, like...
What equipment you must monitor
How to design an alarm system to meet your current and future needs
How to minimize transition costs
With the right information at your disposal, you can choose the site monitoring software - without paying an arm and a leg.
To get started protecting your network, call (1-800-693-0351) or email (sales@dpstele.com) to receive a free expert consultation. The DPS Telecom experts can answer your questions, help you design a custom monitoring solution, or even provide you with a free ROI analysis.
See Also: