SAIC Protects Mission-Critical IT Services With Advanced Alarm Monitoring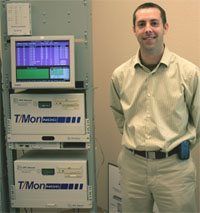 Ross Miller
Voice Network Engineer
SAIC
SAIC is a leading systems, solutions, and technical services company. It solves its customers' mission-critical problems with innovative applications of technology and expertise. SAIC is currently managing outsourced corporate IT services for Entergy, an integrated energy company.
Ross Miller is a Voice Network Engineer for SAIC. His chief responsibility is to monitor Entergy's IT operations, primarily an Avaya call center that has eight sites spanning four states. Miller's work protects mission-critical business communications for Entergy staff. "Any maintenance, upgrades, troubleshooting for the call center system, I support them," he said. For Miller, alarm monitoring is a vital part of doing his job well.
Legacy Monitoring Equipment Wasn't Getting the Job Done
Robust monitoring was a critical component of Miller's job, but the legacy monitoring equipment he was working with just wasn't effective. Although SAIC's redundant pair of T/Mon NOCs were working just fine, their currently deployed RTUs were causing problems. "The reliability was one issue. We were using another RTU, and that box has a lot of problems with it." And when Miller encountered trouble with his existing monitoring equipment, the technical support he needed just wasn't there.
"We have a lot of legacy RTUs that interface back to our T/Mon NOC," he said. "We were looking for a replacement RTU that would interface with our current infrastructure."
SAIC found the NetGuardian 832A.
Essential Support Responsibilities Demand Comprehensive Training
Since he needed a solid base of alarm monitoring knowledge to do his job well, Miller flew out to DPS Headquarters in Fresno, California for a week of in-depth training.
Miller found DPS Factory Training to be a highly valuable experience. He received comprehensive training from the same engineers and support techs who design and install DPS monitoring equipment. "Training was great this week," Miller said. "It was exciting to see the kind of quality that DPS is rolling out."
Factory Training Provides In-Depth Understanding and Real-World Results
And after he completes his week of training, Miller will be taking a wealth of monitoring knowledge back to SAIC and Entergy. "One of the main things that I'll be doing when we get back is to start attaching DPS RTUs to various PBXs," he said, adding "I'm going to try to find a way to get the NetGuardian 832A involved with the Avaya system because it's a solid box, and I'm very familiar with it now... If I can attach the monitoring system to a couple key components, that will allow me to view alarms off-site and do some alarm management."
Even though Miller found the broad DPS product line to be exciting, he noted that the level of client service was most impressive. "The service DPS offers is impeccable, to say the least," he said.
During his week of training, Miller was pleased to interact with key members of the DPS technical staff. "It's very encouraging knowing that... if DPS would pay that kind of attention to us while we are here, there is no doubt that DPS will continue that relationship when we're six states away," he said. "The service at DPS is really what shines compared to our previous monitoring vendor... It really did impress us."