A Basic Overview of SCADA Systems
A modern Supervisory Control and Data Acquisition (SCADA) system is a computer application that monitors and controls a plant or equipment at the supervisory level. "SCADA" typically refers to a centralized monitor and control system of a complete network.
This system can also be referred to as a SCADA Solution.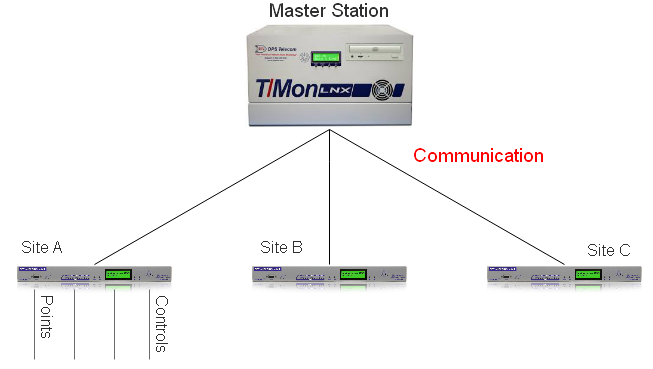 If you need a SCADA system, it's necessary to choose the perfect-fit monitoring SCADA device for your needs.
SCADA Systems Can Detect and Correct Network Problems
There are many types of SCADA systems, and they can be used to manage any type of equipment. Most commonly, they automate complicated industrial processes where manual monitoring and control by human staff just isn't feasible.
Companies in numerous industries use these systems to automate complex industrial processes, detect and correct problems, and measure trends over time. Some of these industries include industrial plants, water and waste control, energy, oil and gas refining, transportation, and telecom.
These systems provide companies monitoring and control applications by collecting and analyzing real-time data. Though not all SCADA systems are equipped for controlling functions, they are still referred to as SCADA systems.
The four functions performed by a SCADA network are:
Data acquisition

Networked data communication

Data presentation

Control
What are The Components of a Supervisory System?
SCADA systems are comprised of many SCADA devices. Most commonly, these include: Remote Terminal Unit (RTU), sensors, control relays, SCADA master units, and communication channels.
Included in a modern SCADA system are input/output signal hardware, networks, a Human-Machine Interface (HMI), controllers, communication, a database, and software.
Sensors and Control Relays
Sensors and control relays are very simple electric devices that can't generate or interpret protocol communication on their own.
Your monitoring system needs a way to collect this data and report it to you in a meaningful way.
Without a data collection system, your system would be pretty ineffective. Using various kinds of sensors allows information to be collected, then forwarded to you. This creates an effective system to get meaningful information about your equipment, transport gear, and environmental conditions.
Sensors used in network monitoring fall under two major types:
Discrete sensors
Discrete sensors collect digital information from equipment. By establishing a high/low threshold, you can receive an alert whenever the sensor detects that the alarm point crosses it. Typically, discrete sensors are used for monitoring doors, tower lights, communication equipment, etc.
Analog sensors
Analog sensors collect live values from environmental conditions. This information is then reported to you as a real value, instead of just an "on" or "off" signal. Analog sensors are commonly used to monitor things like temperature, battery voltage, power current, etc.
SCADA systems allow you to keep a very close eye on your operations. Sensors and relays at remote sites give you a birds-eye view of your site's activities. With SCADA, you will incur less cost while doing more. This is the definition of a profitability boost.
RTUs VS PLCs
Most of the site control is actually performed automatically by two types of SCADA field devices. These SCADA devices are either RTUs or Programmable Logic Controllers (PLC).
Data such as equipment status and meter readings are collected at the RTU or PLC SCADA level. If a system is designed to support alarm collection, that will also be done at this level.
Many operators design their SCADA systems using PLCs to save money, but this ends up costing them in the long run. RTUs allow much more efficient and secure monitoring than a SCADA system comprised of only PLCs.
Having said that, the most significant PLC/RTU differences are most likely in size and capacity. An RTU typically has more inputs/outputs than a PLC. RTUs will also have more processing power to manipulate the data it receives. This allows it to send only the alerts you want to you or a master station.
Human-Machine Interface Communicates Status and Alarm Information
SCADA devices collect and send data from remote sites. A Human Machine Interface serves as a master station that processes data and communicates the processed status and alarm information to the human operator.
An HMI combines data from the SCADA system into one place, saving operators from manually combining polled data from individual points.
Operators can view the system alarms and information through the HMI, and they can make educated decisions based on these readings. If a system is equipped with control functions, signals can be sent back to the RTUs to execute certain actions.
RTU data can be filtered, analyzed and monitored against functional standards. Out-of-range data can generate alerts to operators or maintenance personnel as required.
HMI master stations are critical SCADA devices within a network monitoring system. Without them, operators would be unable to see or act upon the data gathered by RTUs and individual sensors. An intuitive HMI software allows operators to understand this data, as well as provide operators extensive reports related to network alarms.
The Best Transport for Information
The communications infrastructure within these SCADA systems were initially designed to take place over radio or direct modem or serial connections. Today, it is more common to employ Ethernet or IP over SONET for system communications.
For security reasons, SCADA information should be kept on closed networks. However, LAN can be very expensive to install at your remote sites.
A dial-up connection can be retained as a backup secondary connection in case of LAN failure.
NetGuardian 832A Allows for Cost-Effective LAN Migration Over Time
Installing IP capable devices at remote sites can be a significant cost. This cost can be reduced by spreading it over several budget cycles through your migration. With a NetGuardian, you can do it gradually over time without breaking your budget all at once.
The NetGuardian 832A supports serial and dial-up in addition to ethernet communication. When it's outside your LAN, the NetGuardian prevents the need to install expensive network gear there.
As your network grows, simply switch your NetGuardian's communication method to ethernet. This can potentially save thousands of dollars on SCADA devices to support new communication protocols.
This allows for LAN migration over several budget cycles without having to replace RTUs throughout the network.