Stand-alone monitoring via Web Interface
The NetGuardian 216T is a powerful, compact LAN- and T1-WAN-based alarm collector that provides network managers with remote visibility of their network elements. With FrameRelay/T1 support, LAN access for 7 network elements, 16 discrete alarms, 32 ping alarms, 7 analog inputs (4 general, 1 temp, 2 batt), and 2 controls, this versatile unit is the ideal network monitoring solution for outdoor enclosures in areas without existing LAN.
When a problem occurs, the NetGuardian 216T notifies personnel with a complete status message. Notification types include SNMP Traps, text message, TCP text, T/MonXM, Email, and paging through email. The unit also stores up to 100 events in its event log.
In addition to network and environmental alarms and controls, the NetGuardian also includes a 1-port terminal server, allowing remote Telnet access to an external serial device.
The NetGuardian 216T is easy to install, with connectors for all serial and LAN ports, as well as alarm, analog, and control wiring. Aback panel with all wire wrap connections is also available for other installation options. The unit mounts quickly in either 19" or 23" equipment racks while occupying only one rack unit of space.
Provisioning of the NetGuardian 216T can be easily accomplished using any Web Browser or generic TTY terminal. This can be done on site, using the front panel craft port, or remotely via LAN, T1 WAN, or dial-up modem. The entire configuration is saved on the NetGuardian 216T where it remains secure through power outages in non-volatile RAM. Additional options include an external temperature sensor and a wire-wrap back panel for alternate connectivity options. The versatility and reliability of the NetGuardian 216T make it an excellent choice for both inside- and outside-plant operations.
The NetGuardian offers a Web Browser interface for easy and convenient alarm management and unit configuration via Internet or Intranet. The user friendly interface allows complete access to all the functions of the unit and enables the user to quickly set up alarm point descriptions, view alarm status, issue controls, and configure paging information, as well as additional options.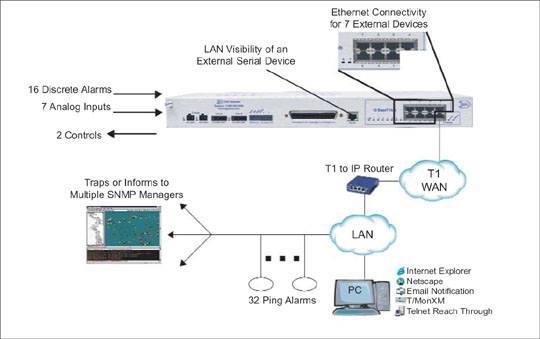 TTY Interface
In addition to the Web Browser interface, the NetGuardian provides a menu-style TTY interface for basic configuration, which may be accessed via the craft port or in a Telnet session via LAN or T1 WAN.
Dual-Mode Operation
The NetGuardian 216T supports both Ethernet and FrameRelay/T1 WAN connectivity for both outside- and insideplant applications.:
WAN Mode - When no existing LAN infrastructure is available at the remote site, the NetGuardian connects via T1, extending LAN to the site. This 1.544 Mbps of Ethernet connectivity is usable by up to 7 external devices connected to the NetGuardian's hub.
LAN Mode - When the network expands to reach the NetGuardian, the same remote can connect via LAN, providing the same monitoring benefits without require additional purchasing.
Alarm Reporting
The NetGuardian 216T reports discrete alarms, relay status, analog alarms, and network equipment failures over the LAN or T1 WAN to an SNMP manager or to the DPS Telecom T/Mon NOC Network Alarm Management System.
SNMP Trap Reporting - The NetGuardian can report directly to an SNMP Manager and will respond to SNMP queries and commands. Multiple SNMP managers at multiple IP addresses are also supported by the NetGuardian. Communication may be achieved via LAN or T1.
T/Mon NOC Support - The NetGuardian 216T can also report to a T/Mon NOC Network Alarm Monitoring System via LAN or T1 WAN.
Consolidated Communications Finds the Perfect Fit
Voice, data, and video services provider Consolidated Communications is enhancing its monitoring with a custom-engineered DPS remote. NetGuardians have already protected Consolidated's network during times of natural disaster, and the versatile new NetGuardian 216T provides FrameRelay/T1 support.

top
---