Monitoring Gear: How To Buy Directly From The Manufacturer
Regardless of your industry, remote monitoring is something that's vital to safeguard your operations. For that reason, you need to get monitoring devices from SOMEWHERE. Broadly speaking, your two most common options are to deal directly with the manufacturer or indirectly through a distributor.
Depending on the manufacturer, some will only sell to customers directly, others are distribution-only, and some will sell both directly and through distributors.
So, the question is: what's the best choice when it comes to ordering your remote monitoring products?
Let's dive a little bit more into these two purchasing methods, why we (at DPS) sell directly and also have distributors and the key benefits of choosing to buy your network monitoring from a manufacturer.
Buying Remote Monitoring from a Distributor -vs- from a Manufacturer
Purchasing from a distributor or from a manufacturer directly are very different methods:
A distributor is a "middle man" between two companies - between the manufacturer of your remote monitoring product, and a channel partner who will resell the unit to you. A vendor may choose to sell through a distributor to shorten its time to market because the distributor already has an established distribution channel. The manufacturer also might not want to deal with technical & logistical support.

On other hand, you can purchase your monitoring gear directly from a manufacturer.
Both of these options can offer benefits for you, but - in terms of remote monitoring - buying directly from a manufacturer might bring you more value down the line. Here are some of the headaches you avoid when buying direct:
Products aren't engineered, manufactured, and distributed to different companies - perhaps even in different states or countries. One organization handles it all. There's a lot less to go wrong.

The time it takes to receive your order is increased when the company you purchase from uses the typical supply method since your order has to travel a long way before it even gets close to you.

Trying to contact the person who knows the status of your order is more complicated because there isn't just one company involved in it.
The number of things that could potentially go wrong with the distribution method are innumerable. How can you be guaranteed quality products when the company you're working with doesn't make it themselves? Can they answer questions, simple or complex, that you have during each step of the process? There shouldn't be a doubt in your mind that the company you buy from can fulfill these basic expectations.
Does DPS Have Distributors?
We do sell directly to our clients around the world. We manufacture and distribute our own products from our headquarters in Fresno, CA. It's uncommon for us to use third-party distributors because our full-service approach works best when we work directly with you. We do, however, work with distributors when you already have one you like and prefer it that way.

DPS Telecom is a vertically integrated company where all of its manufacturing, engineering and tech support is completed at our HQ located in Fresno, California.
Despite the fact that direct sales is our main selling model, we also have clients that find it easier to work through known distributors, simply because they're already into their system. So, because of that, we have established relationships with several major companies. This way we can sell indirectly through a distributor if that works best for your company and project.
If this is the option you're most comfortable with, we provide the same high level of service to the distributor of your choice, as we would when interacting directly with you. We make sure that the proper device is spec-ed and sold, and makes it to you. Also, our sales and support lines are open to the distributors so that you get exactly what you need. Once you receive and start using your monitoring gear, you're always able to contact our support team directly.
Some of our distributors are: Walker, Amex, and Graybar.
Some of the Advantages of Direct Buying
The days when you had to rely only on retailers and wholesalers to purchase your remote monitoring equipment are long gone. Now you can have access to many different products directly from manufacturers.
It's no different with remote monitoring, and there are many great reasons why companies are now preferring to deal directly with a manufacturer instead of buying from distributors.
As a matter of fact, here are the main reasons why direct buying can be more valuable:
The manufacturers are the experts of their products

Manufacturers are automatically the specialists for their own products. We, the manufacturers, actually know every detail and feature because we see every step from design to production, so we're in a special position to provide the best advice if you're exploring your remote monitoring options.

Also, manufacturers usually have a larger range of products than distributors, who tend to choose only some determined products to resell. This means that, when you go directly to a manufacturer, you'll get more options to choose from, and advice from an expert as well.

You can get customized products

Do you have a specific network? Do you have requirements that simple off-the-shelf units can't meet? If you're looking for made-to-order monitoring devices, custom devices are also far better provided by manufacturers than they are by distributors.

DPS simply couldn't create perfect fits for its clients without producing its products in-house. Sending manufacturing overseas allows companies to produce thousands of units for the lowest possible price, but it doesn't support a high-mix, customized product line.

This applies for many different products, but for remote network monitoring in particular, making sure that what you're buying is precisely the right fit is critical. You don't want to leave your vital gear at your remote sites in the hands of any unreliable process. So, purchasing directly from a manufacturer means that the equipment you'll buy can be customized according to your unique specifications, making sure that all your gear is safe.

There's no "middle man" adding costs

Another significant benefit of choosing to buy directly from a manufacturer is that you'll almost always see a reduced price tag - given the absence of additional costs with staff, transport, warehouse handling, packaging, retail display, and marketing. Eliminating the "middle man", such as retailers and distributors who buy at a low price but add their own returns, is a good way to avoid those extra expenses.

Your device's price will, therefore, be considerably cheaper.

You'll gain a more personal connection with your vendor

For those who choose the direct purchasing model, you'll most likely get a higher quality level of service, with a personal touch. This only comes with dealing with smaller, agile organizations.

These companies will probably be more in-tune with your regional requirements than a multi-national firm halfway around the world. By serving a smaller customer-base, manufacturers are able to provide a more specialized level of service. Many big distributors are unable to offer this.

You'll have reliable, US-based tech support

That's actually where you can get a big bang for your buck. Many distributors don't put a great deal of emphasis on after-sales services, simply because they are not able to offer expertise on remote monitoring products. They sell way to many products to be an expert on everyone.

Our tech support, though, is one great asset that our clients really value. We don't outsource this service from overseas. The tech support team is composed of engineers who understand your system's needs.

They never follow a script, so you get only the best, individualized attention to make sure that all your questions and concerns are resolved. Our tech support is available 24/7 at no charge to any client - regardless of how or when the product was purchased.

We understand that the quality and performance of third-party service reflects on us. Therefore, we carefully monitor and manage the service provided by any distributor to any of our end users. We make sure to only work with companies who are capable of providing the same level of customized service that we provide when working directly with a client. This prevents most problems before they begin and ensures that our company standards are maintained.

Also, we proactively monitor client satisfaction directly with automatic email surveys. We encourage you to call us directly if you have any trouble. If you're not satisfied, there's no way for a distributor to block you from communicating with us. We're always available when you have concerns.

You'll be able to get training from experts

Working with a manufacturer means that you'll be working with the experts on your remote monitoring products.

Our Factory Training event, for example, is a four-day class held several times a year at our corporate headquarters in Fresno, California. Unlike typical corporate training programs, the Factory Training event is uniquely designed to provide individualized, hands-on instruction based on field-tested techniques and experience.

DPS Telecom Factory Training is a fast, intense, 4-day crash course on the essentials of network alarm monitoring. You'll learn real-world telemetry fundamentals - knowledge that will save you hours of work and make your monitoring much more effective.

Our training features: instructors with real-world experience, hands-on training, intentionally small classes, and complete access to our facilities where you can see how everything is done.

We also offer on-site training. We can send someone out to show your network techs how to install the equipment, as well as how to use it to its fullest potential.

Manufacturers can give you the best warranties

Most of the time, it's hard to find distributors that can meet your needs on a warranty and protection level. Since manufacturers are the ones actually building your products, they are able to really make sure that you're receiving a reliable product.

We, from DPS, stand behind our products, but if for some reason you're not happy with your monitoring solution, we offer a 30-day, no-risk, money-back guarantee. Basically, you can test out any of our products under real-world conditions at your site for 30 days and if - for any reason - you're not satisfied, simply send it back for a full refund.
There are no cracks to fall through when you choose a manufacturer that works directly with you.
Finding a reliable company to engineer exactly what you need is a critical part of ensuring your project's success, so don't add to your stress or waste time with a company that doesn't focus on what you need.
We Can Help You Get More Benefits with Your Purchase
Now that you know the benefits of buying remote monitoring devices directly, don't leave your network monitoring needs in just anyone's hands.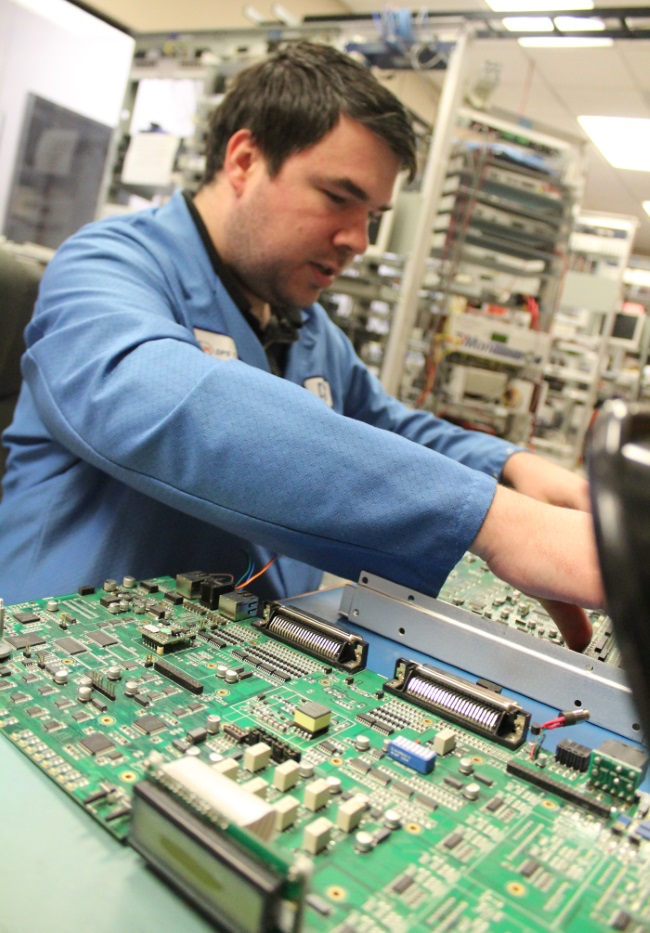 Our unusual strategy of vertical integration allows us to be flexible to your needs. From start to finish we work with you to design and manufacture a perfect fit alarm monitoring solution.
There is a simple way to avoid the confusion and headache of the typical supply chain: choose to work with a company that does everything themselves: engineering, manufacturing, testing, and distributing the network alarm monitoring services. Providing these services ourselves makes every single step easier and less painful for you.
We have a team of engineers that design monitoring gear based on the specific needs of the clients we work for. We can make RTUs and master stations to your precise specifications and custom produce however many you want, so it doesn't matter your scenario. Whether it's one of our existing products or a custom solution for your specific needs, we can give you a perfect-fit device.

Since we produce all of our products in-house, we know what phase your order is in at all times, because we can just take a walk down the hall and see it for ourselves.

Our metal shop is actually just across the street, and that's where each chassis is made for our circuit boards.

You'll receive a quality-checked, customized product quickly and efficiently.

You'll be in constant communication with our team, and we're here to make sure everything goes smoothly.

We do offer 24/7 free tech support that will be there for you, after all, is said and done.
The bottom line here is: whether you prefer to buy directly from a manufacturer or you'd rather purchase from a known distributor - no matter what purchasing option works best for you, we have a remote monitoring solution that will get you exactly what you need.
If you want any further information about the range of products we offer, or how we could help you choose the most appropriate monitoring unit for your remote sites, feel free to contact us today.


Morgana Siggins
Morgana Siggins is a marketing writer, content creator, and documentation specialist at DPS Telecom. She has created over 200 blog articles and videos sharing her years of experience in the remote monitoring industry.